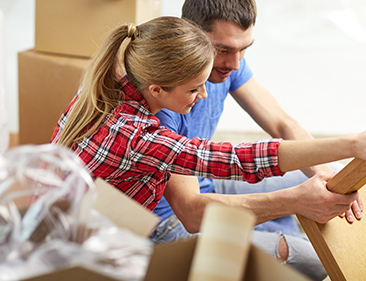 As part of creating your move plan, your Stevens representative will discuss your options for packing those items you plan to move. You may choose to have Stevens pack all of your goods, or you may choose to do some of your own packing, relying on the experts at Stevens to pack only your hard-to-pack, fragile or meaningful items. We'll work to create a pack plan that makes the most sense for you.
If you plan to pack yourself, please visit Packing Tips, What Not To Pack, and Moving Boxes for useful information.
In addition to packing services, Stevens also offers similar unpacking services with each move we undertake. You may choose to have a few boxes unpacked, or you may choose to have them all unpacked. Please contact your Stevens representative for details on both packing and unpacking services and to discuss the level of moving coverage that's best for you.
Benefits of Using Stevens
With Stevens, you get:
Professionally trained and certified packing experts
Specialty boxes and crating services
High-quality materials
Convenience
Peace of mind
If you decide to pack your own belongings, the responsibility of damage shifts from Stevens to you. With that in mind, you may want to let Stevens pack the more fragile items to assure that your items are delivered safely.
What To Expect
If you choose to have Stevens pack all of your items, you can expect quality and professionalism, as well as efficiency and special care. Our packing crews are trained and ready to go—making sure you don't have to lift a finger. You can take it easy, knowing that the packers will know which boxes should be used, which items should be wrapped, which items should be packed together and so on. Boxes will be labeled according to contents and which room they belong in and will also be marked on inventory paperwork. Rest assured that our crews will work diligently to keep your home and furniture safe while packing for the move. We take preventative measures to keep your home and belongings in pristine condition. We also offer Home Protection Kits as an extra precautionary measure.
What NOT To Pack
The packing process can be overwhelming and stressful. If you know what not to pack, you'll save yourself some possible frustration down the line. Some items are best transported by you and should be kept with you while you're en route to your final destination. A typical rule of thumb is that items you will need in the near future, items that have sentimental value and are irreplaceable, and items of extraordinary value should be kept with you. If you can, keep these items in the trunk of your car and take them with you to your destination. Some examples of these items include:
Jewelry, watches, cash or other valuables
Important paperwork or necessary work items
Items that are beyond monetary value and irreplaceable to you
Please keep in mind that accidents do happen; it's better to be safe than sorry. If you feel that an item cannot be replaced, keep it in your care, and take it with you.
Items that are not meant to be packed should either be out of sight of the crew or clearly marked in some way. A good way to mark these items could be colored tape or sticky notes. Be sure to let the entire crew know that items marked in this way should not be packed.
Unpacking Services
If you opt to have our crews unpack for you, they will go the extra mile to help you transition into your new home as smoothly as possible. The crews will carry boxes to the room that you designate and unload the boxes onto the nearest flat surface. Unpacking can take a lot of time and effort; some people choose to take the time to do it themselves, and others want to get the process over with as quickly as possible. Let us know what works for you. An added benefit to having Stevens unpack for you is that the crew can take the empty boxes back with them when they leave. That way, they aren't cluttering your home, and you don't have to dispose of them yourself.
Stevens Home Protection Kit™
A leader in the moving and storage industry, Stevens offers additional home protection for our customers and their homes by using our exclusive Home Protection Kit™. Taking extra precautions to protect your home and belongings is just another reason why Stevens is The Way To Move!
Stevens Home Protection Kit™ is designed to protect your home from top to bottom. Our one-of-a-kind kit contains an array of items, including moving pads, door jamb and door protectors, banister protection, carpeting and hardwood protection. On moving day, our professionally trained crews will arrive at your home with Stevens Home Protection Kit™ in hand and ready to move!
For more information on the benefits of Stevens Home Protection Kit™ and to schedule an in-home quote, please contact us today!
Special Items
Stevens will move your specialty items safely.
It's one thing to pack clothes and towels. It's quite another to pack china, glassware and other fragile items. Whether you're moving for work or just for a change of scenery, when you move with Stevens you can rest easy knowing that our movers will carefully pack your most delicate belongings, or offer our expert advice when you have packing questions. We even offer a range of coverage options to ensure your specialty items are protected against the unexpected.
When you're moving specialty items, you can trust in Stevens' commitment to quality. If you still have questions or are ready to get started, contact your local agent today.
Choose Stevens for Packing
If you're looking to learn more about Stevens, check out our Customer Reviews page to see what others are saying about us. If you're ready to start your move, here's how to contact us. Give us a call at 877-490-0713 to schedule an in-home estimate, send us an email, or simply fill out our free in-home estimate form. Find out today what makes Stevens Worldwide Van Lines your preferred moving company.