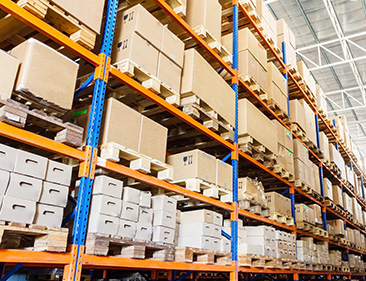 Putting your household goods into storage can be a moving solution you never knew you needed. Maybe you're moving into a smaller place and you don't want to get rid of the extra furniture. Perhaps your new home doesn't have the basement you once considered your sacred storage space. You could be building your new home and not quite ready to move in to it. Whatever your reason might be, we can help you find a place to store your belongings.
Whether you're looking for long-term or short-term storage, we'll be happy to assist you with your needs. You'll find our staff ready to help and answer any questions you have, as you receive the personalized, world-class moving service we stand for at Stevens Worldwide Van Lines.
As a leader in the moving industry, Stevens Worldwide Van Lines has covered every base when it comes to moving and storage, which is why we offer you the option of secured, containerized storage. Our more than 110 years of moving and storage experience means that you can trust your belongings are in expert hands. With our staff and security systems in place, and our affordable coverage, you can rest assured your belongings will be safely kept and monitored. Stevens will gladly pack and secure your belongings and provide you with the dry, secure storage space you're looking for.
Why store with Stevens instead of doing it yourself?
Your items will have already been properly packed and prepared for storage by our crew members.
If needed, you can sort items before you move and decide which items will be going to your home and which will be going into storage.
When choosing storage services from Stevens, your work is complete. Your items will be moved from point A to point B for you and placed into storage on your behalf.
When you're ready for your items, we can work with you to deliver them to your new home.
Short-Term vs. Long-Term Storage
How long do you plan on keeping your belongings in storage? This question is important to consider before putting your items in storage. Short-term storage and long-term storage require different preparation, so it's important to think about this early in the moving process. Any length of time longer than three months is considered long-term storage.
It's important to plan ahead and ensure that your items are properly packed, so they'll come out of storage in the same condition they went in. In addition to the size of the storage unit, there are other needs that could arise: security and monitoring, ability to access your storage unit on a regular basis, temperature control and insurance are a few factors that you should consider. Are these things necessary to properly store your items? Are these benefits part of your needs? Discuss your options with your Stevens representative, who can help you assess your storage needs and guide you in the right direction.
Contemplate what you should move with you and what you don't need or use. This will save you time in both packing and unpacking, and it can save you money in the moving process and in the storage process. Before you move, consider asking yourself some basic questions that could help you clear up some unnecessary clutter. For example:
When was the last time I used this item?

Start sorting your belongings early. It can be more time consuming than you would expect. Allow ample time to sort through areas like closets, dens, basements and attics.
If you haven't used the item in the past year and you're keeping it "just in case," you likely won't miss it when it's gone.

Could the item be updated once I'm in my new home?
Does the item have monetary or sentimental value to me?
While sorting through your items, it may be helpful to create "keep" and "don't keep" piles. If you find items that you do not have room for in your new home and you do not want to put them into storage, you have multiple options for cleaning up the clutter. Instead of throwing out your unnecessary items, consider other options that could help others or potentially make you some money.
For items in your "don't keep" pile:
If the item is still usable and in good condition, consider donating it to someone in need. Your local thrift shops or homeless shelters are a good starting point. Make sure the items aren't ripped, stained or damaged before donating them.
If the item is something relatively valuable that someone else would be able to use, you could attempt to sell it for some extra cash. Electronics, new/unused clothing, collectibles and household items are a few examples.

Consider selling your more valuable items online. By doing this, you can see how much other people are paying for the same item. Selling online can be time consuming, however, because you will likely need to sell items individually. Selling these items is a good alternative to throwing them away; you can add to your moving budget.
If you have a lot of items that you would like to get rid of but you don't want to throw away, a garage sale could be a good next step. By going this route instead of (or in addition to) selling things online, you have the potential to sell larger quantities of items, even if it's for a small amount of profit. A small profit is better than no profit—someone else will be benefitting from your belongings and you won't be creating waste.