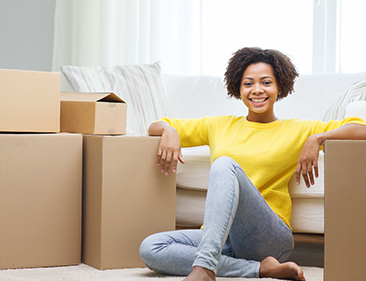 Stevens Worldwide Van Lines knows no two corporate relocations are alike. While there are common challenges throughout, every moving solution we offer is customized to fit the culture, priorities, budget and requirements of your organization.
Our level of care and attention to detail is among the reasons we're one of the nation's premier corporate moving companies. You can count on Stevens to get your key employees in the right place at the right time.
Workforce Mobility Solutions
Growing competition for new talent and the need to retain key performers make robust workforce mobility solutions a must. It's important to have a solid relocation policy in place for moving services, even if your organization relocates a small number of employees annually. As your corporate mover, Stevens adds value to your employee benefit package in a timely and cost-effective manner.
Investments in workforce mobility solutions and benefits are extremely important. Confidence in your mover means your investment is protected. With more than 110 years of moving experience, Stevens has the knowledge and expertise you're looking for in a full-service corporate moving company.
Corporate Relocation Consultants
At Stevens, we believe in guiding you through a seamless relocation process. We assign customers a personal relocation consultant to serve as their primary point of contact throughout the move process. He or she assists you with every stage of your move by addressing concerns and providing direction.
Your moving consultant will:
Introduce himself or herself to begin the pre-move process
Discuss and answer any questions you have after completing our pre-move survey
Review what you can expect from Stevens before, during and after the move
Schedule and confirm your moving date
Review the items and tasks you're responsible for to ensure relocation is completed as efficiently as possible
Follow up to answer any final questions after moving is complete
Why Choose Stevens for Corporate Relocation
Corporate relocations happen year-round. Unfortunately, many families are left to handle relocation responsibilities without the support of a moving company. At Stevens Worldwide Van Lines, families come first. Our dedicated relocation consultants work with your employees' families throughout the entire corporate moving process.
Relocating employees and their families since 1905, Stevens is an industry-leading corporate moving company earning high marks and reviews from our national accounts. Our goal is to provide you and your employees with affordable service options for simple, hassle-free moves.
Full-Service Corporate Moving Plans
A well-managed corporate relocation dramatically reduces the stress associated with transferring, allowing employees to focus their full attention on job performance. The corporate moving team at Stevens Worldwide Van Lines ensures all details of your employees' relocation are covered before, during and after the move.
Our Core Corporate Relocation Services include:
Corporate relocation policy review and development
Full-service and group-move management services
Pre-move corporate workshops
Household goods transportation
Small and large shipment solutions
Issue and claims resolution
Relocation Policies
Our skilled team of corporate movers is available to review existing policies and assist in the creation of new ones. We work closely with relocation teams to ensure policies are regularly reviewed and up to date to meet the unique needs of today's workforce while remaining flexible and accommodating for employees and their families.
Well-defined policies also eliminate uncertainties that might arise during corporate relocation, including spend tracking, authorized expenses and more.
Your Relocation Program with Stevens Worldwide
When you choose Stevens Worldwide Van Lines to assist you with corporate relocations, you gain access to a team of knowledgeable, expert individuals who act as an extension of your company. We provide the administrative and physical support necessary to execute a seamless move, including:
Customized moving plans based on employee needs
Domestic and international relocation services
Relocation policy consulting, development and implementation
Full relocation benefits assistance
Competitive pricing and discounts
Specialized moving packages for employees
Online order placement, tracking and reporting
Simple. Stress-free. Straightforward. Stevens Worldwide is The Way To Move™. Request a quote for corporate relocations today.