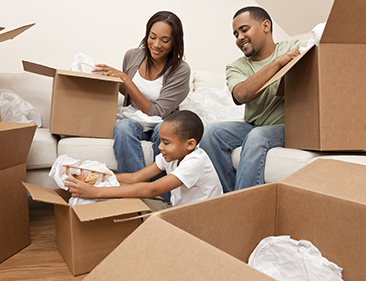 Household moving is a personal, often overwhelming experience. With over 110 years in business and 15,000 families moved each year, Stevens has earned its place as one of the nation's most trusted, reliable moving companies.
Our movers are with you from the start, creating a moving plan designed to fit your needs, budget and timeline. Through seamless communication and years of experience as premier household movers, we make sure every detail of your move is handled from start to finish.
Find the Household Moving Services You Need
Stevens Worldwide Van Lines offers a variety of home moving services. Our goal is to help you through a convenient, affordable move with minimal roadblocks along the way—no matter the size or distance of your move.
Stevens' home moving services are available for all move types:
Long-Distance Moving
Our competitive pricing, stellar service and nationwide network of agent partners make Stevens the ideal partner when moving long distance.
Interstate Moving
Friendly, knowledgeable interstate movers assist you with every step of your move, from planning to packing to unloading.
Cross-Country Moving
From California to the East Coast, Miami to Oregon and every city in between, Stevens coordinates safe and secure cross-country moves.
Local Moving
Local moving agents across the country to get the job done.
Our Full-Service Household Moving Options
At Stevens Worldwide Van Lines, we don't believe in a one-size-fits-all moving approach. Each relocation is unique in its requirements. We offer a full suite of services to streamline household moving. Whether you choose one or opt for them all, Stevens has the tools and capabilities to move you safely into your new home.
Our full-service moving options include:
Packing and unpacking services
Short- and long-term storage
Long-distance shipping
Specialized handling for large, bulky items
Get a Household Moving Instant Quote
When you're ready to start the moving process, let the Stevens moving and storage family take care of yours. We understand all the responsibilities and intricacies of any move and know how to handle every single one of them with grace. From our certified move representatives to our "more than muscle" movers, you can rest assured that all your belongings and—most important—your family, are in excellent hands. With that in mind, fill out our online form to receive your free moving quote or give us a call at 877-490-0713 to schedule an in-home estimate.
More Moving Information
If you're beginning to plan all the details of your move, we have provided tons of resources to help you out. Check out our Boxes page to discover the dimensions of every box and its respective recommended contents. Look into our How to Pack page to learn how to pack over 13 home item categories and then head on over to our Packing Tips page for a library full of best practices and tips while packing. Lastly, check out the What to Expect on pack day/load day and delivery day to inform you of every step along your local or long-distance Stevens Worldwide move.