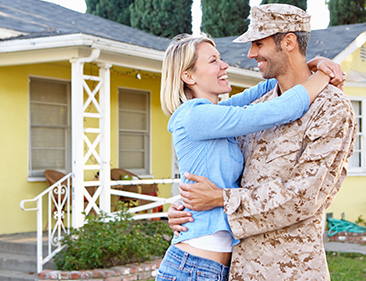 Stevens has been committed to providing relocation services to government agencies and the military since the 1930s. With our professional team of dedicated government and military move coordinators, you'll understand why Stevens is The Way To Move™.
GSA-Approved Transportation Services Provider
Those who serve our country, whether in the military or through governmental agencies, deserve to be served well. Stevens will be there every step of the way to make sure that their needs are met, and we will never cut corners on quality or safety. That's why we're proud to be a top service provider for the General Services Administration (GSA).
CHAMP Program
Stevens is qualified under and supports the General Services Administration Centralized Household Goods Traffic Management Program (CHAMP). This program provides federal civilian agencies a framework for efficient and economical transportation of their employees' household goods from one official duty station to another.
Through the CHAMP Transportation Management Services Solution (TMSS) system, we coordinate moves with those federal agencies that prefer to administer their relocations through this GSA system.
DOD Post-Move Survey
Your feedback is important to Stevens Worldwide Van Lines and the Department of Defense (DOD).
The Department of Defense requires that you complete a survey at the end of any household goods move. The results of this survey will determine, in part, which moving company will be given future military personnel moves from the DOD.
Please click here for instructions on how to complete the survey online. If you experience any difficulties accessing the survey online, you can also complete it over the phone by calling 800-462-2176, option 5, then 1. You'll need only about a minute to go through the questions. To bring up your survey, you need your government bill of lading (GBL or BL), which consists of four letters followed by seven numbers and can be located on documents associated with your move or emails received from DPS throughout the move.
Military Contacts and Resources
If you have general questions, need to verify your military shipment status before loading or in route, if your shipment is in storage or to schedule delivery out of storage, please call 800-428-9572 or email dod@govmove.com.
If you experienced any loss or damage to items moved through the Defense Personal Property System (DPS), your claim must be filed through the DPS portal. To access the DPS portal you will need your Government Bill of Lading (GBL) number for your shipment as well as your Electronic Transportation Acquisition (ETA) login information.
For U.S. Federal Government or General Services Administration moves (non-military-related): 800-932-7799, ext. 472, or email fedgov@govmove.com.
Additional Resources
The documentation required for military moves can be tough to keep track of, so we've provided some additional resources and handy documents to help you with your move. If you don't see what you're looking for here, please contact us directly.
General military move information and move assistance
Entitlements/Guidelines including info on firearms, privately owned vehicles (POVs) and more